Content Blocks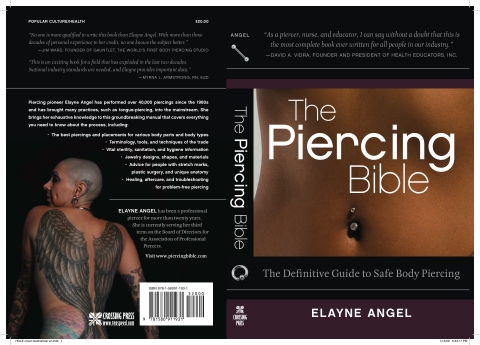 The Piercing Bible contains a wealth of information for everyone with an interest in the subject. It provides a truly comprehensive view of the subject with concrete facts for people who are contemplating getting pierced, those who already have piercings, and the people who interact with them.
Because piercing breaks the skin, it is essential that you are accurately informed to help you make educated choices for effective healing and minimizing health risks. There IS a lot written about piercing on the web, but it is often contradictory, and sometimes downright wrong. Inaccurate information can be dangerous to your health.
The bulk of the book is practical advice for piercees and potential piercees. It includes detailed information on each specific piercing based on my extensive professional experience as of one of the most prominent body piercers in the industry. The book covers such topics as:
*How to find, evaluate, and select a qualified piercer
*Risk and dangers vs. myths and rumors--and how to minimize the real risks
*All about body jewelry--sizes, styles, materials, and quality
*How to clean and care for piercings, with alternative care options
*What to do if problems develop
I also offer helpful tips on living with piercings, including dealing with pregnancy and breastfeeding, concealing piercings, stretching and maintaining piercings, and sex and piercings, and much more.
Get a personally autographed copy of The Piercing Bible:
$20.00 plus shipping. International shipping is also available.
Questions about ordering? Email [email protected] for information.
Unsigned copies can be purchased on Amazon:
ALSO AVAILABLE as an eBook for Kindle, or other eReaders from eBooks.com.
Find The Piercing Bible in a library.
For information on bulk purchasing of The Piercing Bible at wholesale cost, contact the publisher, Penguin Random House, directly: 866.761.6685 and request a "special markets" order for a lower book minimum. They will want the book's ISBN number: 978-1-58091-193-1
Read book reviews of The Piercing Bible.
See the Table of Contents.
Also available is my updated aftercare troubleshooting eBooklet, containing 87 pages of information on dealing with piercing problems and complications.

The fully revised and expanded second edition is available for pre-sale on Amazon!
(release date: June 1, 2021)
What My Happy Clients Say
Finally, a well-written book covering body piercing! This book is the BEST reference for piercer and piercee alike!
This is a great book for anyone that is interested in getting pierced or in knowing more about piercings. It's a good read as well and I actually couldn't stop reading it because I felt that there was just so much information to absorb. I would definitely recommend this book to everyone.
This book is simply excellent. It is well organized and very thorough. I am in the process of reading everything available on this subject and this is by far the best I have found. 
The information is presented in a professional manner (rare in this subject) and as a medical professional I can say that it is every bit as well written as any of the medical texts that I have to read.