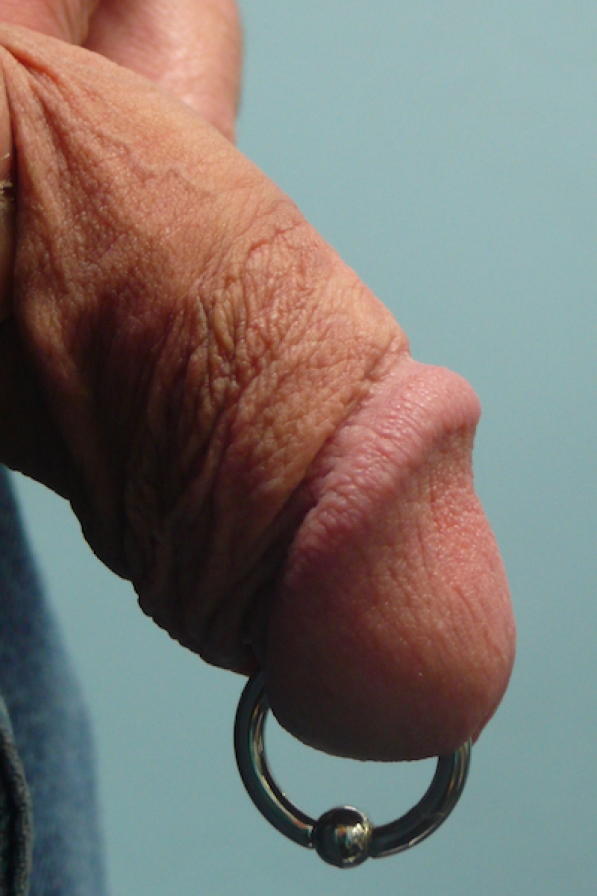 In the world of modern body piercing, the Prince Albert is a historic piercing, not because Queen Victoria's consort wore one—he didn't. It is because during the early years of modern body piercing, the PA was the most popular male genital piercing. Many heavily pierced men describe the Prince Albert as their favorite.
General Information
The PA may appear to be a severe puncture of the male organ. However, the piercing traverses only a very small amount of tissue, encompassing much less skin than the average earlobe piercing. In fact, it goes through some of the thinnest pierceable tissue on the body. Because it pierces into the urethra, men are often concerned that the Prince Albert piercing is dangerous, harder to heal, or more susceptible to infections. To the surprise of many, it is an easy piercing both to receive and to heal. One's own urine is not harmful to the piercing. In fact, it functions much like the salt-water treatments that are suggested to promote healing.
Healing Time
4-8 weeks or longer
Placement
The piercing is made on the underside of the penis at the juncture of the head and shaft; the jewelry rests within the urethra and is worn out the tip of the urinary meatus (urethral opening). Many men greatly enjoy the sensation of jewelry inside the urethra, though it may take a short time to become accustomed to its presence. The urethra is not in the center of the penis—it runs along the bottom—so the piercing usually passes through just a membrane of skin.
If you don't have a large penis or a high urethra (allowing for a substantial distance between the piercing and the lower edge of your urethral opening), your piercing can be placed a little further down the shaft to cheat some extra tissue into the piercing. The skin it pierces through won't be any thicker—it will just be a little further from the tip of your penis. You should have no less than 1/2" of tissue between the piercing and the lower edge of your urethra when your penis is flaccid. If you want to stretch up to large gauges, the piercing should encompass at least 5/8". Let your piercer know if you have plans to stretch to jumbo gauges, because this should be factored in when marking the placement.
Instead of a flat, pierceable surface, many men have a cordlike web in the center of the area where the Prince Albert is worn. In this case, the piercing can sometimes be set a little further down the shaft, or, more commonly, slightly off to one side. The web should be avoided because penetrating it makes an unstable, uncomfortable PA and may even result in an little flaps of cut tissue.
If the skin is not webbed, then the piercing can safely go right in the center--if no visible blood vessels are present. Frequently, PAs are placed unnecessarily off to the side, probably for the same reason that a lot of so-called "pros" don't pierce the midline under the tongue: poor training. I often see PA piercings placed much further to the side than is necessary or desirable. This results in a piercing that is too steeply angled, which causes discomfort, scarring, and other problems.
Several factors can help you and your piercer decide whether the placement should be to the left or right of the web if it can't go in the center. Your piercer should look for visible blood vessels and, obviously, select the other side. He or she can also see if one side lines up better with your urethra; the jewelry will sit straighter when the piercing aligns with it. Also, you can take into consideration whether you "dress" to the left or right in your pants, as the piercing may be more comfortable if situated on the other side.
If you are intact (uncircumcised), you may still be built to have a Prince Albert piercing. You must be able to comfortably retract your foreskin far enough for the piercing to be placed in an appropriate location. Your foreskin must be checked in both positions to be certain the jewelry will fit properly. If your foreskin fits snugly over your glans, you must not wear jewelry so large that it prevents your foreskin from resting in its natural position. This would result in a severe complication called paraphimosis (images below), which can have devastating consequences. A curved bar or "C" bar (opened circular barbell) can be worn to avoid this serious issue. The ball at the tip of your penis must not be so small that it easily slips into your urethra. This will cause the remainder of the jewelry or bar to hang down from your piercing, which can irritate your tissue and might feel unpleasant inside.
Approximately 1/250 male children is born with a form of hypospadias, a congenital defect in which the opening of the urethra is not located at the tip of the penis. The Prince Albert piercing is inadvisable in severe cases. In milder cases, the urinary meatus is still on the head of the penis (sometimes in the spot where a PA would traditionally be placed). If the urethra is large enough, the piercing might still be possible by situating it further down the shaft. You must consult an expert piercer if you have hypospadias.
Note that I ALWAYS wear gloves for client contact! Images without gloves were sent to me for consultations, and are posted anonymously and with permission.
Properly placed PA with ring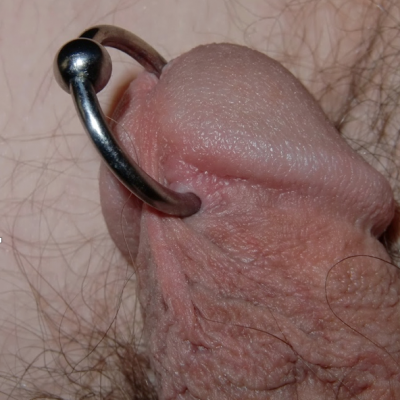 Prince Albert on an intact build with circular barbell by Joeltron Bament, Opal Heart, http://www.opalheart.com.au/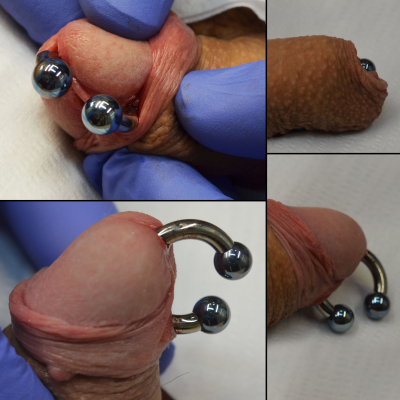 An unnecessarily angled Prince Albert piercing that could have gone on the midline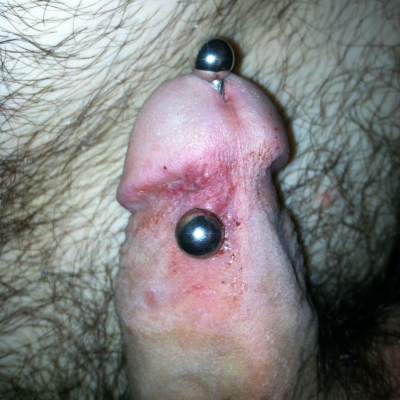 A troubled PA piercing placed way too far to the side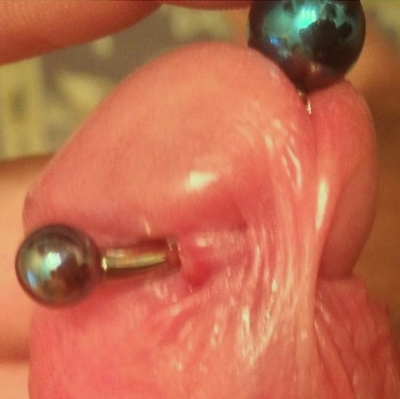 A PA on a webbed midline that should have been placed slightly off to the side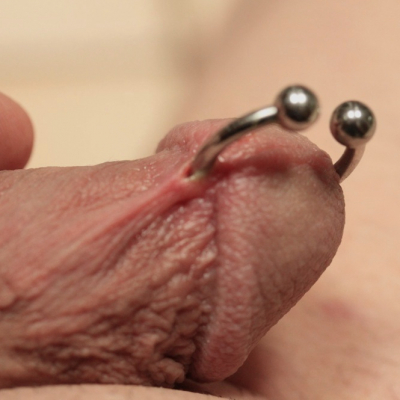 There should be AT LEAST 1/2" (12mm) of tissue between the piercing and the lower edge of the urethra when flaccid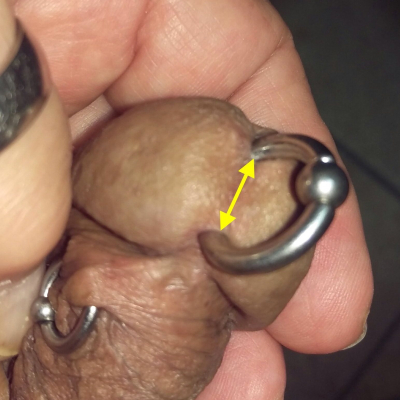 A shallow Prince Albert placed too close to the urethra, on an intact (uncircumcised) build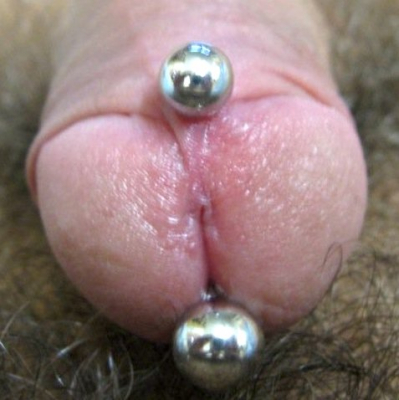 Mild hypospadias in which the urethral opening is located approximately where a Prince Albert piercing would go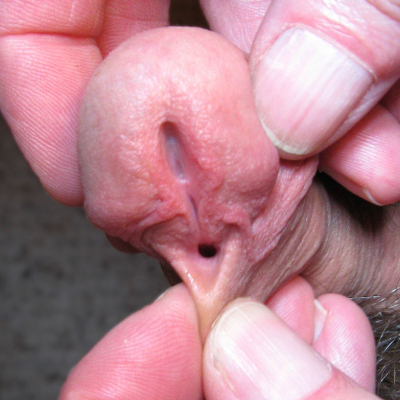 Jewelry
The 10 gauge is a reasonable maximum starting thickness, and is the most common size that I use. Though the 12 gauge is less apt to bleed, and this piercing can easily be stretched later. The jewelry diameter is anatomically dependent and it needs to accommodate your erect size. Your initial piece should not be much larger or heavier than necessary because this can cause healing complications.
You need not get an erection during the procedure as a piercer can get a reasonably accurate measurement for the required jewelry diameter by simply pulling on the skin near the end of your penis between the spot for the piercing and the tip of your urethra.
It is usually easy to change your own Prince Albert jewelry, especially if you insert it from the outside, rather than trying to feed it inside your urethra. Sometimes the PA stretches so readily that you may be able to skip sizes. However, once it is expanded, the tissue may not shrink back much if you remove your jewelry later.
This is the most popular body piercing for jumbo expansion; jewelry of 0 to 00 gauge (8 or 9 mm) is not unusual. Many men and their partners enjoy the sensations of a Prince Albert piercing with big, heavy jewelry in it. Sizable rings do not prohibit urination, because as thicker jewelry is added, the urethra stretches, too. Caution: hefty rings or bars can be dangerous to your partner's teeth during oral sex.
For initial piercings, I've been using the customized "C-bar" style for quite some time with great success. You can learn all about it here.
A C-bar made by opening a smaller circular barbell-suggested for initial jewelry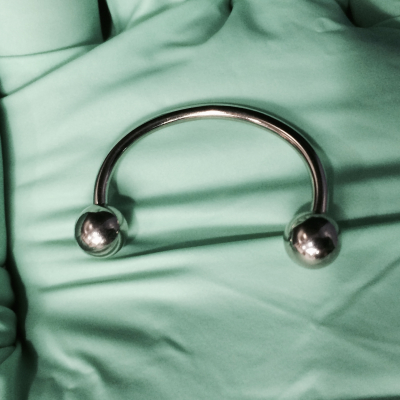 PA with a "C-bar" made from a widened circular barbell-great for initial jewelry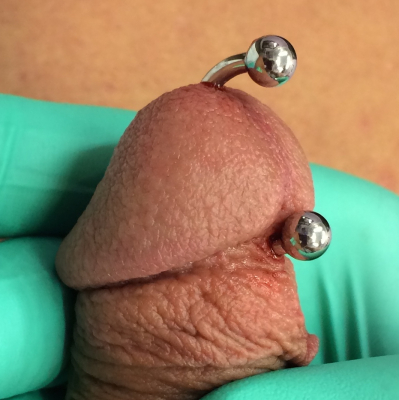 Prince Albert piercing with captive bead ring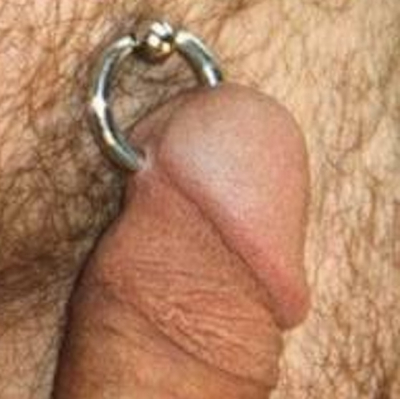 PA with a curved bar and sufficient room for erection measured between lower edge of urethra and piercing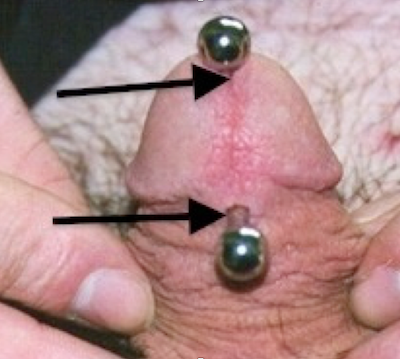 Prince Albert piercing on intact (uncircumcised) build with circular barbell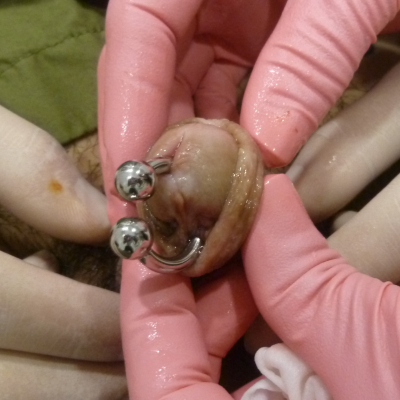 Prince Albert piercing on intact build with foreskin over the jewelry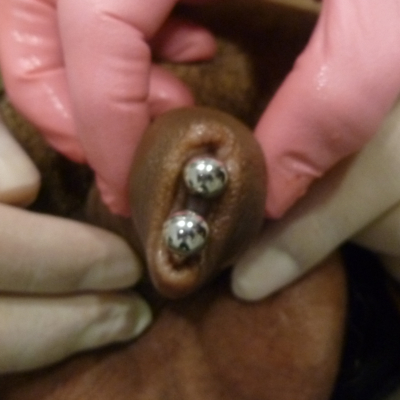 Prince's Wand specialty PA jewelry that must be custom made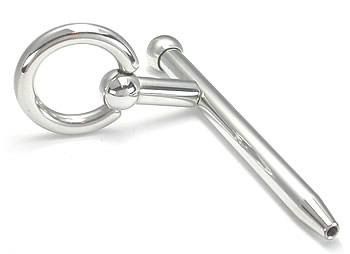 Prince's Wand specialty jewelry for Prince Albert piercings that must be custom made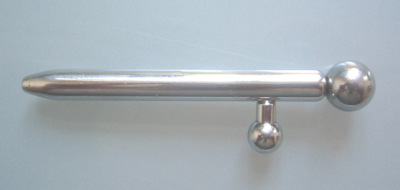 Procedure
This procedure may prove difficult mentally, but it is not terribly challenging physically. Many men compare it favorably to an earlobe piercing!
I perform the Prince Albert using a needle receiving tube (NRT). For your comfort, I warm the tube between my gloved fingers and lubricate it before inserting it a short distance into your urinary meatus. The NRT is not overly large, but many men still find its presence to be the most unpleasant part of the procedure, so I leave it in as briefly as possible. My technique is to just slightly overshoot the dot when I insert the tube, so when I draw it back into position underneath the mark, I am certain the tissue inside the urethra is taut and flat. In most cases, I can see right through the skin to the tube inside. I make the piercing from the outside, through the mark, into the protective tube, which safely guides the tip of the needle out your urethra. I transfer in the jewelry following the direction of the needle. It takes me just a moment!
Healing and Troubleshooting
The normal amount of post-PA bleeding that routinely occurs can be alarming, even if you think you are prepared for it. It is cruel and unprofessional for a piercer to perform your Prince Albert without educating you about what to expect during the aftermath. Rest assured, intermittent blood flow for several days is absolutely normal. After that, it can continue to bleed off and on for a few more days. 
I always apply the amusingly named "rubber chicken" wrapping for PA piercings to help you avoid an embarrassing mess. This dressing consists of sterile gauze around the piercing for absorbency, covered by a medical glove (the drooping fingers look like a chicken comb). I secure it with a rubber band that is snug enough to keep the bandage in place, but not so tight as to diminish your circulation. Prince Albert piercings regularly bleed enough to fill a whole glove multiple times. Keep the rubber chicken on until it is full and needs to be changed, or until you must urinate. To avoid hard-to-explain messes, reapply a leak-proof wrapping for a day or two longer than you think you need to, even if it seems that your bleeding has stopped.
Many men are apprehensive about being able to urinate standing up after getting this piercing. A few easy maneuvers can help you to normalize the act once you have healed. When a ring sits in the middle of your urethra it can split the flow and cause a splashy mess. Also, many Prince Albert piercings stretch on their own, leaving extra room around the jewelry, which results in leakage from the piercing hole. A simple solution is to manually plug the hole on the bottom when you urinate. Place a finger on the underside of your penis just at the front of the jewelry to plug the hole manually. If you wear a ring, put your fingertip within the ring. This also draws the jewelry to the lower edge of your urinary meatus so it doesn't interrupt the flow. Or, rotate your penis so that the ring faces the ceiling. This helps to merge any urine leaking from the piercing hole back into the main stream.
Healing of Prince Albert piercings is usually quick and trouble-free, unless you are overzealous with sexual activity before healing is complete.
Unlike most piercings, once the PA is healed, it is usually there to stay. Even if you abandon it, you can probably reinsert jewelry later. Depending on how large the piercing was stretched, the hole could remain open enough to leak after you remove your jewelry. Simply covering the hole with your finger during urination is an acceptable resolution for most men. If not, consult an understanding urologist or surgeon to learn about the pros and cons of a procedure to excise and stitch up your unwanted aperture.
Prince Albert piercing healing normally in initial stages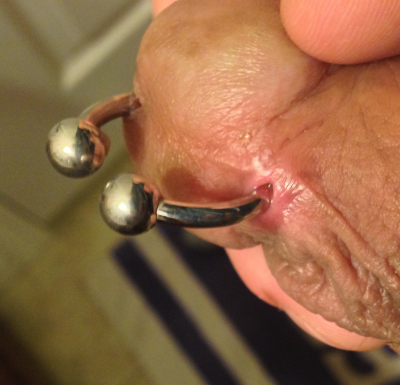 PA piercing having healing trouble, too angled, marked for appropriate placement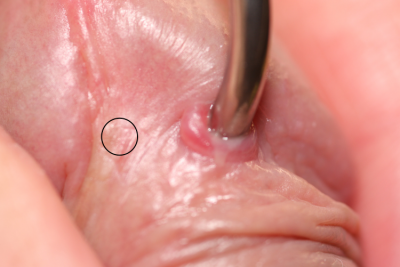 PA piercing suffering from excess trauma during healing causing irritation and excess scarring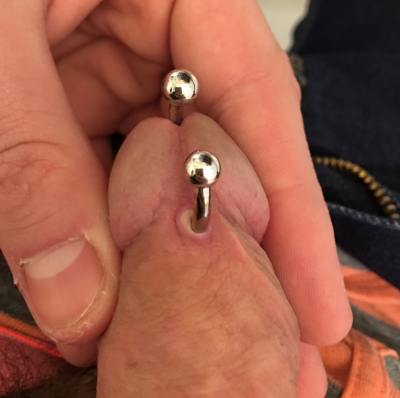 Prince Albert piercing so overstretched it cannot be worn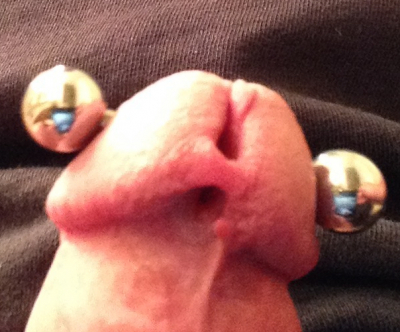 A serious complication: paraphimosis from the foreskin being retracted too long. See a doctor immediately!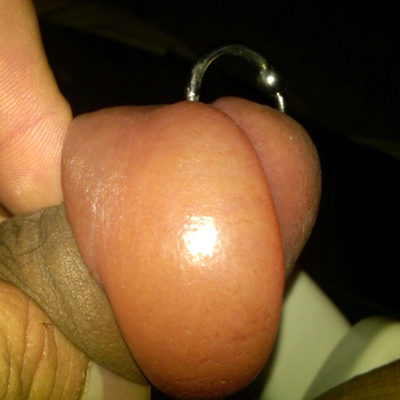 A serious complication paraphimosis: swelling from fluid filling the foreskin due to being retracted too long. See a doctor immediately!
What My Happy Clients Say
I was fortunate to have received my first piercing, a PA, from Elayne recently. I was blown away with her professionalism and attention to detail. She was extremely accommodating and easy to work with.  
Elayne exceeded every one of my expectations. I really can't recommend her and her work highly enough. I wouldn't ever choose to be pierced by anyone else.
A.N.
Philadelphia, PA
Elayne did my Prince Albert, pubic, and lorum piercings. I am forever grateful that I found her to do them.
Elayne is the consummate professional with a gentle touch and very patient and very informative.
My only regret is I didn't start sooner.
M.
Philadelphia, PA
I got a Prince Albert and a Guiche by Elayne and had a very positive experience.
Elayne is very professional, very friendly, very patient, and very lovable. 
What made the decision easier was buying and reading The Piercing Bible, buying and watching Elayne's piercing videos. 
I traveled approximately six hundred miles to get pierced by Elayne, and I would definitely do it again.  Thank you for making me feel so welcome and loved. 
M.
Traveled 600 miles to Philadelphia, PA