I reveived a message recently:
Dear Elayne,
I got my VCH done last June by Kellan at infinite in Philly and I've been very pleased with it. He was a great and professional piercer, he calmed me down and talked me through it. I got a curved barbell but I've decided I want try out some different jewelry. Do you have any ideas for styles to increase stimulation?
Also, next month I have to have a test and my doctor said I have to take the jewelry out. How long can I leave it out for? I can't get back to Infinite any time soon. Thank you so much! A.
My reply:
HI A.,

Nobody can tell you how long the channel will stay open without jewelry in place. On some people it starts to shrink right away and jewelry insertion can be difficult almost immediately after removal! I suggest using a non-metallic retainer to keep it open if at all possible.

If you want to experiment with removal, I would suggest you try it out for brief periods, and definitely consider getting an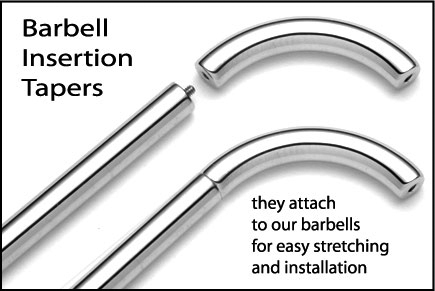 insertion taper, which makes it much safer, easier, and more comfortable to reinsert jewelry. Here are photos of the two most common styles. You want to select the taper to fit the style of jewelry you are inserting, and also the gauge, of course. So to put in a 14 gauge curved barbell (or any other internally threaded jewelry style), you would use a 14 gauge pin-coupling taper.
There is a detailed step-by-step instruction guide in The Piercing Bible that explains how to safely do your own jewelry changes (and how to stretch piercings if you want to go larger).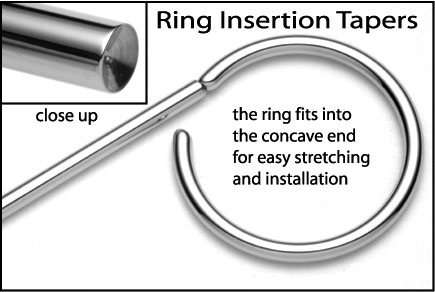 For maximal stimulation from a VCH piercing, some women prefer a J-curve (also called a Navel J-curve, but they are worn in VCH piercings, too). See photo below. 


Other women prefer a ring for stimulation. You may find that a hoop is useful if your partner has a tongue piercing! Since personal preferences for sexual activities and individual sensitivities vary widely, I couldn't say for sure what style you would enjoy the most, but I can say that the research is fun.





This new ring style could be worn in a VCH piercing.
Insert it so the bead faces the clitoris for extra stimulation!