I got a message from a gentleman with a healed Prince Albert piercing. He was alarmed at seeing some blood after masturbating:
Hello, this is a bit scary. I got a PA a while back. About 5 years back to be exact. All went well, I've since managed to stretch to an 8G. Two days ago, I switched to a captive bead ring. This took a little work, as the bead did not want to pop into the jewelry.

Weird thing is, I um. Well I pleasured myself today, and to my horror was a bunch of blood mixed with semen.

1) It doesn't look swollen, infected, etc
2) There was absolutely no pain before during or after this happened, nor while urinating, rinsing, anything.
3) It sometimes feels a tiny bit sensitive, but nothing I haven't felt before when adjusting to new jewelry.

It definitely freaked me out as the only other time it ever bled was 5 years ago when I first got the piercing.
My reply: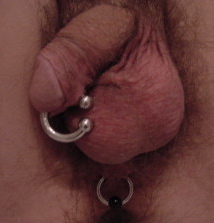 It sounds like you must have pinched something during your stretch/jewelry change and caused some localized trauma. It is a very vascular area and a small wound in the wrong spot could result in this type of bleeding.

You may want to do some saline soaks and a daily wash with soap and water (care for it like a new piercing) until any evidence of the problem is gone.

Detailed instructions are here: piercingbible.com/piercing-care

I would suggest you use condoms with any partner(s) for a few weeks, just to be safe.

Sincerely,
Elayne

Elayne Angel, Author
The Piercing Bible--The Definitive Guide to Safe Body Piercing
President, Association of Professional Piercers

http://piercingbible.com/
http://www.facebook.com/elayneangel
http://twitter.com/elayneangel
http://www.linkedin.com/in/authorelayneangel