I received a message from a woman who got a VCH piercing and she wanted me to evaluate it for her:
After checking out your website and researching this piercing, I went ahead and decided to go get one for myself!

I have seen other reviewers say they have sent pictures of their to evaluate if it has been done correctly, and since you are not in my area piercing, I went to another piercing place to have it done.  However. I  still want your professional opinion on whether it was done correctly.  Being such a delicate area, I want to know mine is done right!

I know my piercer did use the NRT [needle receiving tube].  I do have concerns because he went through with the needle, then said the skin on my hood moved (which I know must happen at times) and had to pierce me again.  (You can see in the pictures, above the top ball where I think the first needle went through before he had to move it down.)  So this is where I lost a little confidence.  Afterward, I bled profusely for about 4-5 hours almost as if i had my monthly cycle which also worried me.  So I just want your opinions on this, if it's normal, and if the piercing looks done correctly to you!

The bleeding has stopped and I am in no pain, I have been cleaning it as instructed, but I don't feel any "heightened" sexual sensations at this point either.  Maybe that will come after healing?  I apologize for the bruising and some of the dried blood, as this piercing was done less than 24 hours ago and still has to heal.

I do hope they are close and clear enough and that the lighting is well enough for you to make a proper evaluation.  Thank you so much for taking the time to look.  You're awesome!

Best regards, A.
My reply: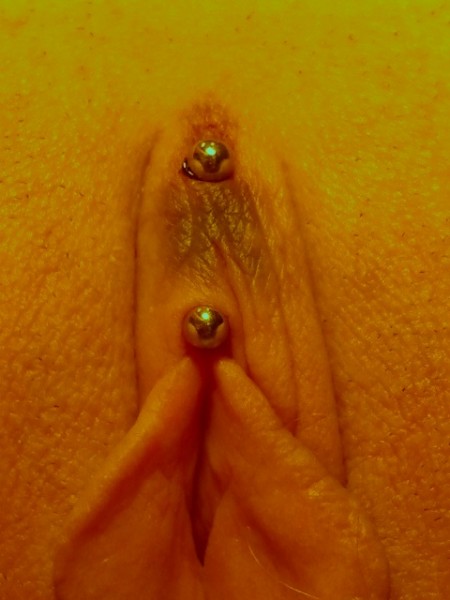 Thanks for your message. From what I can see, the piercing appears to be properly placed--but the real key is in the placement under your hood. You probably won't be able to get a shot of that for some time due to tenderness and swelling. But if you want me to fully evaluate it, feel free to send photos any time. This page of my site explains and shows what I need to see.

Sorry to hear about the extra poke you got; I imagine that could be the reason for some extra bleeding. Though any piercing can bleed, bruise, and/or swell. Here's some information  about that from my book,The Piercing Bible--The Definitive Guide to Safe Body Piercing:

What to Expect

Immediately after being pierced, some bleeding, swelling, and tenderness or pain are standard consequences. Bleeding may continue—usually intermittently—for a few days. Localized bruising is normal, though not typical for most piercings. Heavy blood flow or bleeding that continues for longer than a few days may be cause for concern, and you should contact your piercer or a physician. The placements that routinely bleed freely are discussed in chapters 10–13.

If a piercing bleeds or swells substantially right after the piercing, an ice pack should be applied as soon as possible. Prepared piercers keep disposable instant cold packs ready for use. They can be wrapped in a clean dental bib or paper towel to maintain hygiene. Occasionally, a piercing will swell so much that your piercer needs to swap out your jewelry for a larger piece before you leave the studio. An adept technician will use an insertion taper to change it for you without causing pain or trauma to the area. Internally threaded jewelry is safer and easier to deal with in these situations.

Piercings that bleed under the surface can leave a colorful bruise. Arnica montana (a natural herb) may help to diminish the discoloration. Arnica is available in cream or gel form at health food stores. Apply it on the bruise, but do not put it directly into the wound.4

On occasion, some localized swelling of a fresh piercing can impinge upon a nerve, causing temporary numbness or tingling, loss of taste in oral piercings, or diminished hearing in ear piercings (rare). However, barring an unusual placement or healing complications, these are transient troubles.

You can expect slight swelling, redness, and oozing of fluid to persist for a prolonged period of time. You might not have bleeding or tenderness immediately afterward, but a few weeks or months later it might happen. This is normal, and in the absence of other problems, there is no cause for concern. Any time a piercing has a flare-up, treat it as if it were new by resuming or accelerating your aftercare regimen.


As long as you're bleeding you should NOT do any saline soaks. Is this similar to the care instructions you got?

Also, you're not really expected to experience enhanced sensations except when you're engaging in sexual activities. So it is far too new for you to be able to make a judgment on that issue.