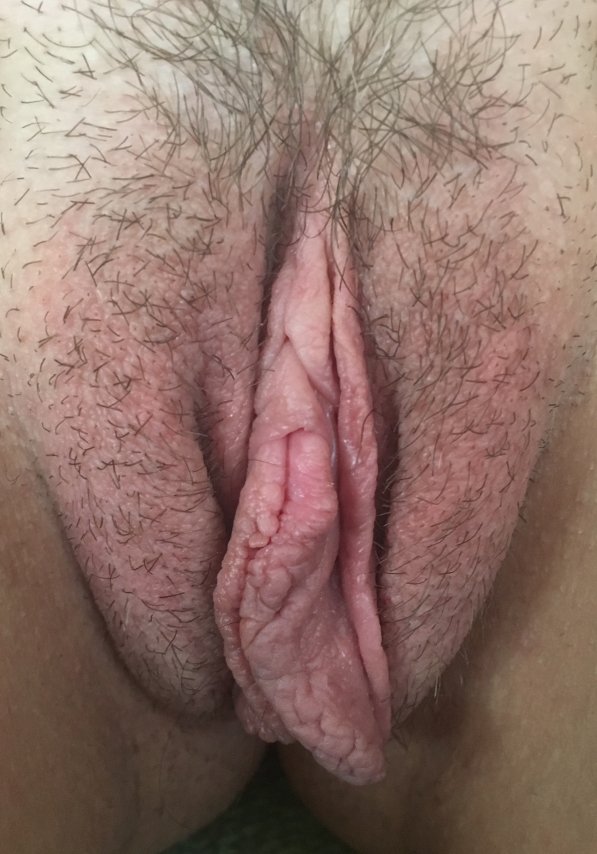 Using certain photos, I can check (at a distance) to determine if you're a candidate for the piercing. A consultation is required in order to book an appointment with me for a triangle or HCH piercing.
To check your anatomical suitability, I require specific images as shown and described below.
I need to see the following pictures and they must be clear and close-up: 
1. An at rest image of your hood area relaxed, with your knees wide, like the one at left
2. A view of your hood height (from the side and/or top)
3. A pinch test (behind the clitoral shaft for the triangle, in front of it for the HCH)
4. Vascularity images of both sides, at the base of your hood to check for vessels
Scroll down for examples.
Note that I ALWAYS wear gloves for client contact! Images without gloves were sent to me for consultations, and are posted anonymously and with permission.
Placement
Please see the photos below, which explain and demonstrate what I need to see to evaluate your anatomy for piercing suitability for a triangle piercing and/or an HCH piercing.
These are piercings that are placed, to some extent, by feel--especially the triangle. Therefore photos do have some limitations. I might not be able to tell with 100% certainty that you're suited to the piercing. But I can usually determine if you're obviously not a candidate. 
I'm happy to evaluate you even if you plan to go to another piercer.