Argh! I received yet another message from a woman who went in requesting a vertical clitoral hood (VCH) piercing and ended up getting her hood pierced to her clitoral glans pierced due to visiting an unqualified, untrained piercer. She wrote: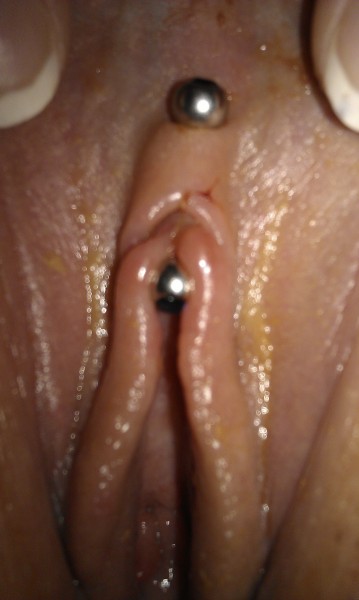 I recently got a VCH piercing but I think its not placed right. As you can see the piercing does not come through the hood, the lower ball is too far down. When i got the piercing it was very painful and a lot of blood came out.
My reply:
I'm sure it was very painful, because that is NOT a hood piercing: YOU HAVE HAD YOUR CLITORIS PIERCED!
Your hood is actually pierced to your clitoris. You're going to need to take that out but you should talk to the owner of the business and get your money back.
Where did you get this done?

She wrote again:
I had thought it was pierced through that from the pain i went through.

I will try and remove it myself as i don't want to go back to the place that did it.  I got it done in Carrickfergus, Northern Ireland.

I was going to go to a piercing shop in Belfast tomorrow to see if they would remove it for me, as I don't want to make it worse.

Then she said:
Thanks for your reply, you have been really helpful.
I managed to remove the jewlery last night after several attempts and can now notice a hole at the top of my clitoris.

I only had the piercing in for 2 days so hopefully heal soon.
I'm not put off the VCH piercing and when I'm healed I will be going to belfast city skin works to have the procedure done.

I have been looking at your website and it is very informative
Thanks very much for your help and advice.
I've marked your photo below with light lines to point out the "inverted-V of the hood" to show where the bottom part of the jewelry should have been coming from.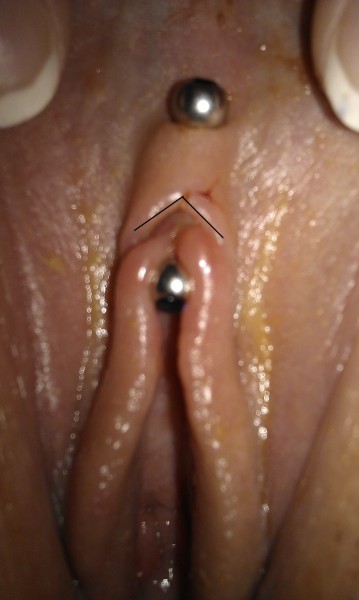 If that studio you're planning to visit has a website with a gallery, please provide the link so I can take a look at their work and see if they appear to really know what they're doing.
I'm sure the hole will heal since you took the jewelry out. Still, I'd suggest waiting 2-4 weeks before getting repierced, so the tissue can normalize and stabilize first.