I received a message from a woman who was worried about her new VCH piercing:
Hi Elayne, 

I have been searching the internet for two days now trying to decide what to do, so  I finally decided to ask for some advice. I just got my VCH piercing the other day, and everything went alright. But the next day it seemed I developed a yeast infection. I woke up the next morning and my lymph node near my groin area was HUGE and very sore. My piercing is a bit tender, but there is no redness or pus or any sign of infection.

Does this mean there is bacteria in my piercing? Should I take it out or would that make it worse? I have been going back and forth about just taking it out anyways, but I'm scared it might irritate it more. Will just simply cleaning it daily solve the problem, or should I contact a doctor? My anxiety is through the roof and I have been worried about it constantly. If you could give me any advice at all I would greatly appreciate it.
My response:
Is it possible that something else (sexual activity?) caused your symptoms? It isn't uncommon that people will give their unpierced parts a final sendoff before piercing and may engage in more sexual activity than normal. A piercing isn't apt to cause yeast infections (though overly strong soap can.)
Your swollen glands could indicate a problem. Though they may just be overreacting to the foreign object. I'm not a doctor and I can't even see you, so it is hard to help. 
However if the piercing is infected, then quality jewelry of an appropriate size and material should be left in place to allow for drainage. Though you descirbe the piercing as not being inflamed, so I really don't know what's warong, or that it is entirely related to the new piercing.
Do you have a fever? If so, then I would definitely suggest a visit to the doctor right away.
Do you know what material your jewelry is, and if it is internally threaded with a mirror finish? If you are not wearing high quality jewelry, you may need to change to higher quality jewelry for your piercing to heal properly.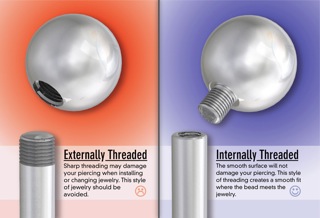 These are the care instructions I suggest: http://piercingbible.com/piercing-care
To facilitate healing, you may want to do saline soaks: http://piercingbible.com/saline-soaks
And also use emu oil (if you don't object to using an animal product): http://piercingbible.com/emu-oil