Here's a recent consultation I performed for a couple who were considering a Vertical Clit Hood piercing, and then had jewelry issues after the woman was pierced:
Hi Elayne.

My wife had scheduled an appointment for a VCH piercing next week with a piercer in Florida. I am a registered nurse and feel comfortable driving there for this procedure after doing a good bit of research, however, after reading many blogs on your site i have started worrying about surface piercings and worse complications. Should i worry about these things? I hope you will be able to put my mind at ease.

Thanks
My response:
Hi. 
If you visit my referrals page: http://piercingbible.com/piercer-referrals you will find the few handfuls of piercers I refer to worldwide. You are wise to consider the skill of the piercer as a VCH piercing is one of the piercings most often botched by inexperienced or poorly trained piercers. 
He wrote back:
Thank you for the reply.  Also, is there any truth to gradual desensitization over time after the vch placement due to constant contact?

Thanks again.
My response:
Here's an excerpt from The Piercing Bible that adresses your question: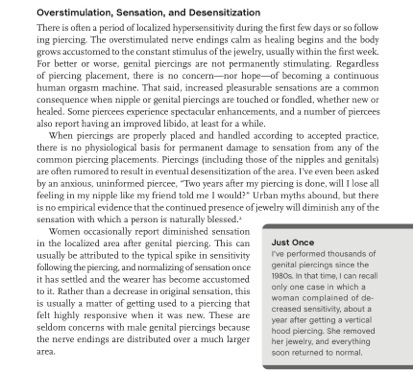 If you wish to become a more well-educated consumer, I suggest you get my book, The Piercing Bible--The Definitive Guide to Safe Body Piercing.
I think you'll be amazed by all of the valuable facts and practical advice in my book. It contains loads of information about evaluating piercers and studios, piercing placements, appropriate body jewelry sizes, styles, and materials, aftercare, troubleshooting, and much, much more. My website contains just barely a taste of the information in my book!
These particular chapters will help you learn how to evaluate piercers (and body jewelry, which is also crucial to the success of a piercing):
Part 2 Groundwork and Preliminary Considerations  

3 Risks, Myths, and Warnings  ................................  20 

4 Is Piercing Right for You? ....................................  28 

5 You and Your Piercer  .......................................... 34

Part 3 Piercing Preparation 

6 Picking and Preparing  ......................................... 44 

7 At the Studio ...................................................  49 

8 Piercing Procedures ...........................................  56 

9 Jewelry 101: Sizes, Shapes, and Materials ..............  65 

Part 4 The Holes

13 Below the Belt: Female and Male Genital Piercings ... 134
After reading The Piercing Bible you will be extremely well educated about the subject, and in fact, you'll have a lot more information than some "professional" piercers who are practicing in the field!
To order: go to my web page: http://piercingbible.com, locate the book cover in the right-hand column then select your shipping method from the drop-down menu. Click the "Buy Now" button, or email: [email protected], or call toll free: 888 888-1APP. Orders are being filled by the Association of Professional Piercers. I serve on the Board of Directors as President of the organization. A portion of the proceeds from the book goes to the organization, and you will receive a signed copy of my book. We do ship internationally.
Alternatively, you can get it from major booksellers, or Amazon.com:
Also, if you'd like to see me performing piercings, and demonstrating exactly where they should be placed and how quickly and easily an expert can perform them, I've got videos available here:
http://www.clips4sale.com/store/10557  (You'll see that I can perform a piercing in an instant!)
Let me know if you have other questions.
He wrote back:
Here are a couple of pics. Its difficult to get under the hood but we tried.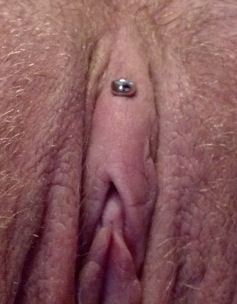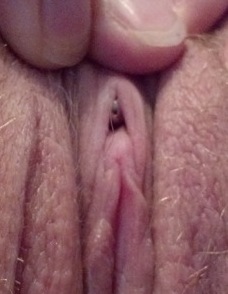 We bought your book last night. Lots of great info. My wife got the vch. She likes it so far but they recommended a straight bar and the bottom is hidden under her hood. I read in your book that you didn't recommend that type of jewelry for a fresh piercing. Should we consider changing to a curved bar?

Thanks!
My response:
Straight or curved, the crucial point is that it fit well to the anatomy, and your jewelry does not. 
Ordinarily, I suggest initial jewelry be left in until a piercing is healed. But from the photos you sent, the jewelry looks to be very short indeed. The potential problem is that there's some risk of the ball underneath the hood becoming embedded in the tissue--especially if you are having a hard time accessing and seeing it.
Do you know if the jewelry is internally threaded? If so, it is much easier to change such jewelry without risking any injury to the freshly pierced tissue. Did you go to a member of the Association of Professional Piercers? We all use internally threaded jewelry.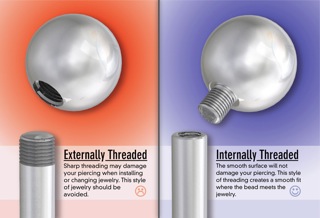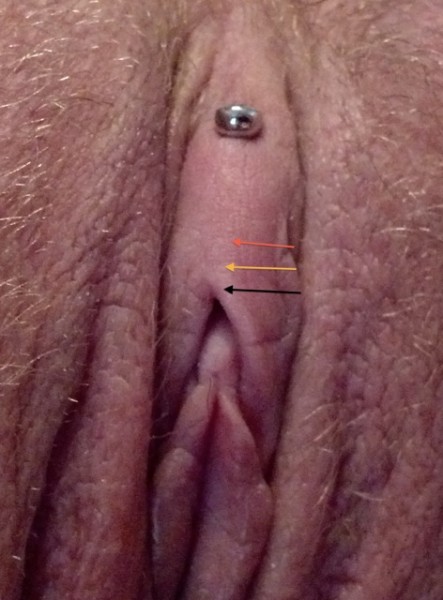 They wrote back:
Ok, the BOTTOM of the lower ball is between the yellow and blue arrow. That makes me feel better but we will definitely want to change it s soon as it heals. I have attached a ruler photo if you wouldn't mind giving some insight on sizing. We just did research on the APP website and found that there are no members closer than 2.5 hrs from us. Its very scary because there are numerous studios in our area. So glad we read your book first! Thank you so much for your help! I will spread the word about your book, you are awesome. Thanks again.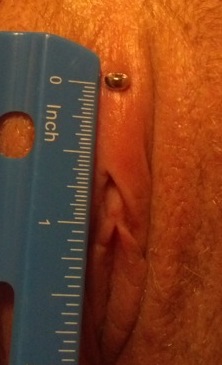 My response:
I note that it is possible from the image that the tissue is being pulled upward, and that could make her hood look longer than it is when it is resting naturally. I know it is hard to take photos of this area on many builds, especially if the outer labia cover over it normally.
But you want to try to gently spread the outer labia while avoiding distortion for the most accurate measurement. If you believe I'm correct, try to do take measurement again. Also, if you could drop the ruler just a tiny bit, the first mark (the "0")would line up better with the opening of the piercing. Right now it is a little higher than the piercing, resting about half-way up the jewelry setting.
If you're confident the photo you took accurately represents her anatomy: having taken the ruler placement into account, it looks like a 9/16" bar will allow the bottom ball to show. A curved bar will show the bottom more than a straight bar. I can't say which she'll prefer the most in terms of sensation as that varies considerably from person to person.
You can order a curved post from this page: http://www.bodycircle.com
or a straight one here: http://www.bodycircle.com
You could get a "barbell insertion taper" here: http://www.bodycircle.com
A longer post to use with the same two threaded ends as yours should mix and match with the jewelry from that site. If you need help with jewelry sizing, please send a clear, close-up photo or two of your existing jewelry in place but don't obscure the actual hole(s), and place a ruler or measuring tape right next to your piercing. Try to align the piercing hole with the start of the measurement.
Let me know if you have other questions.