Here's a recent consultation I performed for a woman whose Vertical Clit Hood piercing was developing scar tissue:
Dear Elayne,

I've had a VCH piercing for just over 9 weeks now and seem to be having some problems with it. This is my second attempt at a VCH because the first time I had it done, it was improperly placed too shallow (even though the piercer used a NRT) and it was only a 16g externally threaded curved barbell. I took that one out after two weeks, gave it a month to heal, then drove a little farther to a much more reputable piercing studio. Before settling on this particular studio, I purchased and read your book, educating myself as much as possible so I didn't get another botched job. The second piercing was so much better! I felt really comfortable with the piercer's knowledge and she did everything "by the book". This time, I was pierced with a 12g, 5/8" straight SS barbell internally threaded (anatometal brand). I asked her why she piercers with a straight barbell rather than curved and she said in her experience women tend to enjoy the straight barbell more (herself included). After scrutinizing the piercing from every angle when I got home, I was very happy with the placement and started the healing process.

I healed the piercing by doing sea salt soaks (1/4 tsp non-iodized sea salt to 1 cup of filtered water) twice a day for the first four weeks, then continued once a day until the piercing was no longer tender (about 6 weeks after being pierced). I will admit there was a 4 day period where I didn't do any soaks 2 weeks after getting pierced due to being away from home. 

Everything seemed to be going fine, even though I wasn't getting much stimulation from it. I was preparing to order a J-curve barbell and decided to take a closer look underneath the piercing. That is when I noticed I have an ugly red raised bump under my hood, adjacent to my clitoris! I had no idea it was there because it isn't painful at all, nor is it bleeding or producing any discharge. I referred to your book and I think it's hypertrophic scarring (I hope it's that and not a keloid!!). My problem is where it is located, I don't think I can conceivably do any compression therapy on it. I'm also worried about using something like alcohol, hydrogen peroxide, or tea tree oil so close to my clitoris. I've attached some pictures of the bump, and general placement photos as well.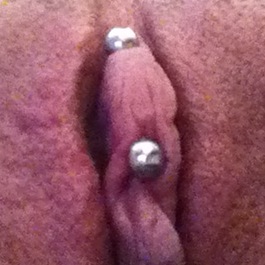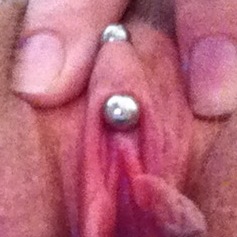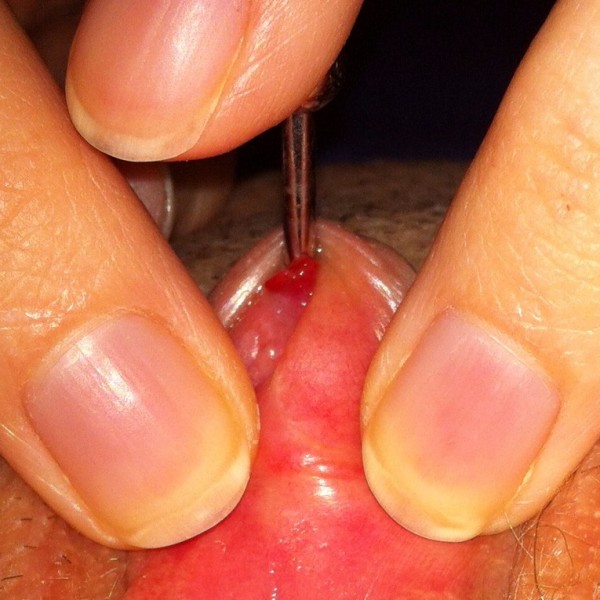 What do you think I should do? Should I try changing jewelry, or leave what I have in? Can I safely use tea tree oil in that location? Or do I need to abandon the piercing all together? I'd hate to do that, but I'm also sick with worry that I might have a permanent scar in such a delicate area.

My reply:
Thanks for your thorough message and the photos. I can understand your concern, as it doesn't really look right underneath there.
It actually looks more like a granuloma to me (excess granulation tissue), than hypertrophic scarring. 
http://piercingbible.com/troubleshooting#Hypergranulation_Tissue
The interesting thing is that it looks like it is in  a line. I added a small line on your photo to show what I mean. It looks as though there might be more of this underneath your fingertip, too. (?)  I'd need to see another view or two to be certain.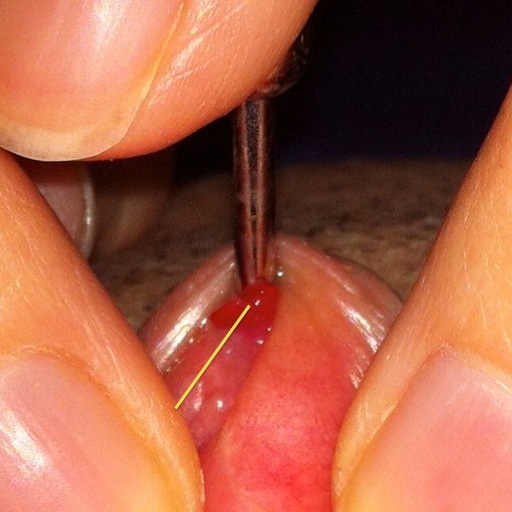 Are you able to tell: when the jewelry is at rest, if there is any pressure against it from the angle of the piercing and the shape of your body combined with that size/style of jewelry? It really has the appearance of migration that is being caused by trauma. 
A curve often provides a little ease on the tissue without added length. See the other two images I included of women wearing straight bars where this effect is emphasized.
I'd be curious to see the underside of your piercing without quite as much distortion. Maybe you could try lifting the edge of your hood to show the underside, rather than pulling quite so hard on the jewelry?
If it is hyper granulation tissue, you can try the tea tree oil--many women have had good luck with that for problems in this region. Just listen to your body and if it feels like it is too strong, then you'll need to dilute it, or try something else.