I received an email from a woman who received a triangle piercing that was so painful I was certain it wasn't properly placed before even seeing a photo. She wrote:
I actually got my triangle yesterday, a little worried about it though. It hurt a great deal more than I had expected it to, and I couldn't sit down for several hours afterwords - I had radiating pain down my inner thighs and burning through my entire pubic region. Both are gone today, but I'm still wondering if the nerve bundle has been nicked. I did jump pretty severely as the needle went through, and I'm worried I threw it off or something. When I palpate the nerve bundle higher up (mine is on the large side, easy to feel) it causes the ring to rotate up and down... also the ring is a bit crooked and slightly farther from the base of the hood (if that makes sense) than I expected. I can't seem to lift my hood back easily, and I was under the impression this piercing would be close enough to my body not to hinder the hood being pulled back from the point of the clitoris. And when I follow the nerve bundle down it seems to lead right into the path of the piercing rather than clearly over it as I expected. I know I probably shouldn't be poking at it this much so soon after getting it but I'm a little worried and not sure how to tell if its alright. I called up my piercer to ask her about the radiating pain, she said its a little different for everyone but discomfort was certainly normal with a triangle. Could swelling just be causing it to seem different than I thought it would be? Does any of this sound concerning or am I being paranoid? Sorry to be a bother, just not sure what to do. The piercer I went to does have experience with triangles and came highly recommended but with an area this sensitive I'm just concerned, and I won't be able to check back with the piercer who did it in person for at least six weeks so I thought maybe you had some advice. I can send a picture of the piercing if that would help. Again sorry to bother, but as you are an expert I thought you might have an idea if I should be worried.
I replied: Please sign up for a consultation and send some photos ASAP! It doesn't sound right, but it is hard to evaluate without seeing it. I've done LOADS of triangles (probably more than any other piercer) and I've never had anyone describe what you did.... As soon as I saw the photo, I knew she was in trouble.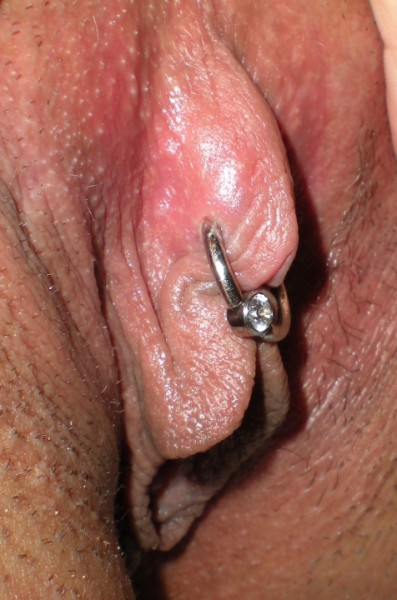 I told her: From what I can see it appears quite possible that the clitoral glans, or shaft was nicked or pierced. The piercing is much further from the base of your hood than it should be. The piercing should be made at the juncture where the hood tissue forms from your body. This also appears to have had the effect of pinning your hood down over your clitoris. Not good! Also, the right side is higher than the left, which could lead to migration and is not aesthetically pleasing. If you're not happy with it (and I can understand why you wouldn't be) then you should remove it. If you are okay with it and want to try to heal it, then leave it in. The following day she wrote again:
I in fact took it out the morning, the pain had returned to shooting down my thighs and up my lower abdomen, and it just felt too wrong and too painful to leave in. Removing the captive bead ring was pretty horrible and I had to recover in the fetal position for a few moments =( Very upset all that pain was for nothing, but when it heals up I'll try again - maybe not with the same piercer though. Don't suppose you'll be piercing in the New England area any time soon? As for the closed bead ring, my piercer said it would heal just the same as a circular barbell but with the benefit of not worrying if the beads were coming loose. She would also have pierced with a curved barbell. How long does it need to heal before I can re-attempt?
My reply: Also, I wonder at how savvy your piercer is since he/she used a complete ring, which I never do for on a triangle. This is from my book The Piercing Bible--The Definitive Guide to Safe Body Piercing:
Triangle Piercing: Placement and Choice of Jewelry
Due to the recessed location of the piercing and the vertical orientation of the vulva, the safest and most comfortable jewelry for a healing triangle piercing is a custom-fit circular barbell. The base jewelry should be a diameter or two smaller than you need to accommodate your tissue. Your piercer will then widen the gap between the balls by spreading out the ring. This can be done very easily with ring expanding pliers.
The photos below both show a woman wearing a triangle piercing (among others). Though her outer labia completely cover the piercing, the open circular barbell style jewelry tucks down safely and comfortably against her body.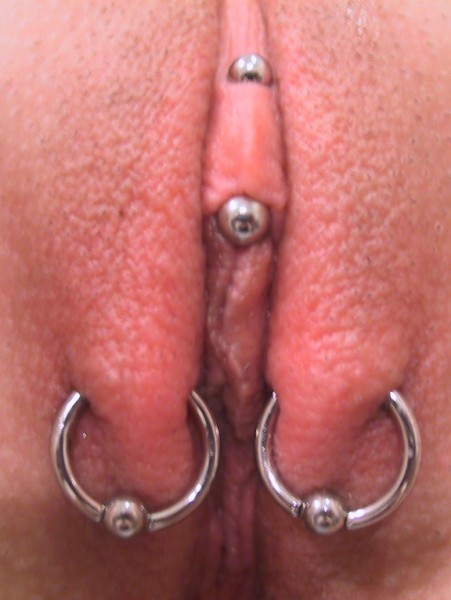 She will make it C-shaped or (almost) U-shaped, depending on your build. The gap between the circular barbell balls must be wide enough to accommodate your hood so the jewelry tucks down flat, to cradle your inner labia. The surrounding structures hold the jewelry securely in place. The portion of the ring that passes through your tissue fits properly in the limited space between your legs without twisting like circular ring-style jewelry, nor shifting like bar-style jewelry.  I sent her photos to demonstrate how the widened circular barbell slides back against the body and tucks in--well protected from twisting and turning. Ultimately, she told me:
Also once I removed the ring blood started coming out from under the hood - now that it has been removed I can pull back my hood and can in fact see where it went diagonally up through the right side of clitoral shaft =( My poor little clitoris - I guess I should consider myself lucky its hurting rather than numb though!
So sorry to hear about your bad experience. That totally sucks! My experience shows that regular rings definitely don't do as well as the custom-bent circular barbell, but that's a moot point at the moment. I'll probably be piercing in Philadelphia some time this summer. Maybe we can hook up then? She seemed very game to try it again in our last correspondence. She wrote:
It would be totally awesome if you could pierce me this summer! Philadelphia is perfect, I'm actually supposed to visit a friend of mine who lives there sometime this spring or summer =) And I imagine I would be well healed by then. Please do keep me updated on when you will be there! Thanks so much for all of your help and advice. I'm going to be salt-soaking and nursing my poor lady-bits back to health for a little while it looks like, but at least it didn't turn out worse... lesson learned. Hope to see you in Philly this summer then =)