I'm so excited about the Pain Magazine "Spotlight" on inGauge, my awesome body jewelry measuring mobile app. It is in the December 2012 edition on page 28. You can view it on their site. I just had to share a glimpse of it here.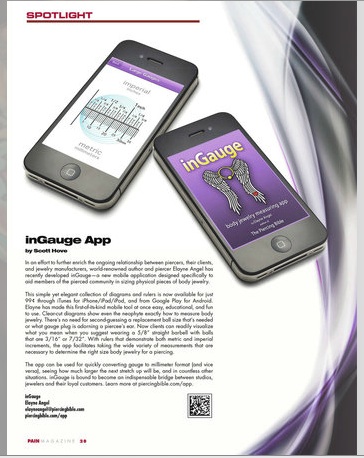 It reads:
Pain Magazine Spotlight on the inGauge App
by Scott Hove
In an effort to further enrich the ongoing relationship between piercers, their clients, and jewelry manufacturers, world-renowned author and piercer Elayne Angel has recently developed inGauge—a new mobile application designed specifically to aid members of the pierced community in sizing physical pieces of body jewelry.
This simple yet elegant collection of diagrams and rulers is now available for just 99¢ through iTunes for iPhone/iPad/iPod, and from Google Play for Android. Elayne has made this first-of-its-kind mobile tool at once easy, educational, and fun to use. Clear-cut diagrams show even the neophyte exactly how to measure body jewelry. There's no need for second-guessing a replacement ball size that's needed or what gauge plug is adorning a piercee's ear. Now clients can readily visualize what you mean when you suggest wearing a 5/8" straight barbell with balls that are 3/16" or 7/32". With rulers that demonstrate both metric and imperial increments, the app facilitates taking the wide variety of measurements that are necessary to determine the right size body jewelry for a piercing.
The app can be used for quickly converting gauge to millimeter format (and vice versa), seeing how much larger the next stretch up will be, and in countless other situations. inGauge is bound to become an indispensable bridge between studios, jewelers, and their loyal customers. Learn more at piercingbible.com/app.