I received a message from a woman who was concerned about her navel piercing:
Yesterday was my 3 month mark with my navel piercing. I've been through hell and back with this thing but I am not giving up!!! I adore this piercing and I don't want to take it out!

I got a granuloma on the bottom hole of my piercing about a month ago. It's healing, slowly but surely. I apply tea tree oil to it 2-3 times a day and it has decreased in size.

Lately I have noticed my bar hanging out a bit more. I know that usually happens since the piercing bars are longer to accommodate for swelling of the piercing. However, I am worried it is hanging too much. I have seen pictures on Google of navel piercings that look much, much shallower than mine. I still have quite a thick amount of skin in between my balls. The reason for my concern is that right behind my top hole, there is a purple dot. I am wondering if that is where my hole used to be and it is moving?

Should I put in a smaller bar? I think I may have a little scratch on the bottom of my bar, but I can't quite tell...maybe you can?

Thanks for your help!!!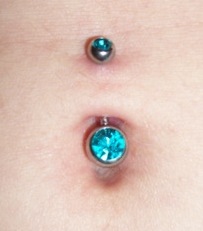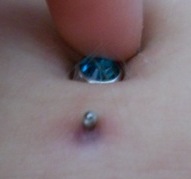 My response:
The piercing looks quite normal for its age, and there is an appropriate amount of tissue between the entry and exit holes.
The darkened appearance can be perfectly routine during healing.
This is from my book, The Piercing Bible--The Definitive Guide to Safe Body Piercing:
Piercees and medical professionals alike frequently see a normal, healing navel that has become irritated and pronounce it infected. Some discoloration (pinkish, brownish, or purplish), secretion of clear or cloudy fluids, and induration (hardening of tissue) can all be present in a normal healing navel piercing. A misdiagnosis of infection is especially unproductive when you are prescribed a course of antibiotics: your irritation will not be resolved, and the real cause of the problem will not be addressed. 
If you suspect that your bar has a nick, scratch, or other imperfection, you should definitely be wearing a different piece of jewelry!  I marked your photo where there does appear to be a nick in the bar post.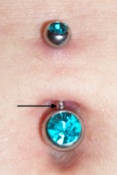 In any case, I suspect part of the issue may be due to the fact that the bottom gem is so large and heavy. I'd suggest you get in high quality, internally threaded jewelry with a smaller bottom ball or gem for the remainder of your healing time.