I received a message from a man who was concerned about his apadravya piercing:
Hi Elayne,

I love my aprydavya, but I have been having problems with it lately.  I have been doing the sea salt solution (1 teaspoon per cup of distilled water).  It has been irritated over the past two weeks and was not getting better with the nightly salt soaks of 20 minutes.  Also, I think I may have screwed up with making a batch of the solution, storing it in a separate container and poring it into another container to soak as opposed to making a fresh batch every time   Now I make a fresh batch of the solution,  but do you think I should see a doctor about the irritation?  Also, do you think that the jewelry may be too long?  When wearing tighter pants, it really contorts the angle and I think that is were the irritation started.

I have attached photos.

Thanks!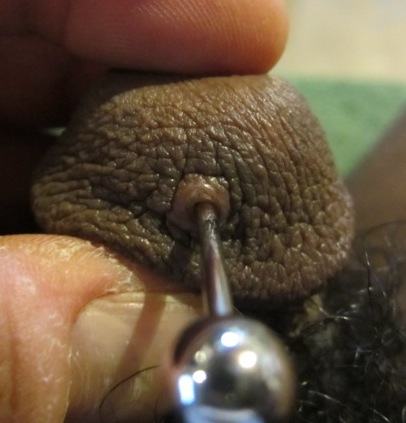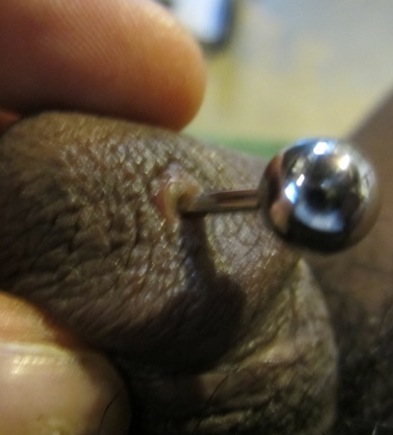 My response:
It doesn't look worthy of a doctor visit to me. It may be from trauma, as you mentioned in your message. You'll need to check your own jewelry fit. When you're fully erect, if there is still extra room then you can and should get a shorter post put in.
To minimize flare-ups and/or facilitate healing, you may want to review the information saline soaks: http://piercingbible.com/saline-soaks  A 5 minute soak is perfectly fine, and doing them more frequently is better than doing them for a longer period.
Do you warm the salt water? That is important for maximizing its healing effect.
And also you can use emu oil to soothe and help healing (if you don't object to using an animal product):
http://piercingbible.com/emu-oil
Also, you can find my troubleshooting information here:
http://piercingbible.com/troubleshooting
You may want to try the no-pull disc. Information is here: 
http://piercingbible.com/video/2012/08/no-pull-piercing-disc
Keep me posted!