I recently received this message from a woman who requested a vertical clitoral hood (VCH) piercing but was given a surface piercing instead:

Hi Elayne,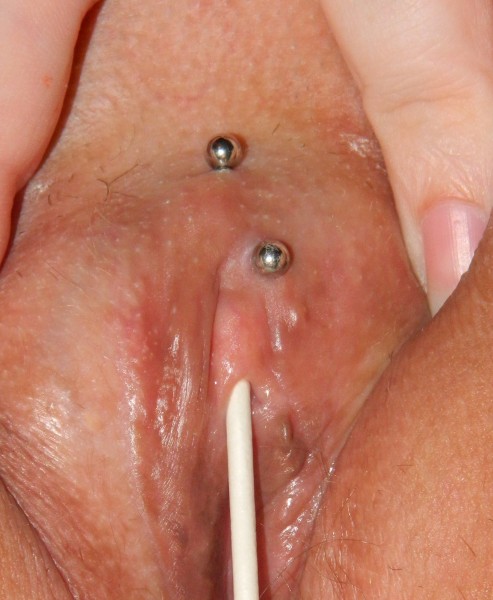 I came across your website when I was contemplating getting a VCH piercing. I found it to be a great source of information on this type of piercing and it ultimately made me decide to go through with it. Even though I understood where the correct placement of the piercing should be, when I finally decided to get the piercing a few months ago, I ended up getting pierced with forceps which resulted in an improperly placed surface VCH piercing. Unfortunately, I was wrong to assume that because I had gotten pierced by this same piercer on two separate occasions and was happy with the outcome, that he would know the correct placement of the VCH. It is also unfortunate that he has pierced many women this way. Now I'm left with a piercing that I am unhappy with and question what would be the best way to go about letting them know it was not done properly. Do you have any suggestions as to what action I should take to let the piercer know?

Also, the piercing can at times cause a sharp pain, especially when the jewelry tugs at the top hole, even though I have had it since February and it's healed. Is this caused by the improper placement and should I remove the piercing?

Thank you in advance for taking the time to respond. Your knowledge is greatly appreciated.

Sincerely, R.
Hi R.,

Argh! It always upsets me to learn that someone has seen my website and still ended up with a bad piercing! Sorry to hear that yours was not done properly. The photo above shows something that looks more like a Christina piercing rather than a VCH--it is very far above where a VCH would normally go, which is shown by the placement of the q-tip.

If you wanted a VCH, it will be best to remove the jewelry and abandon the piercing. Surface piercings have a tendency to be problematic and if you're experiencing discomfort from it, that isn't a good sign. 

As far as dealing with the piercer goes, you could consider getting copy of my book, The Piercing Bible--The Definitive Guide to Safe Body Piercing, and showing him the section on VCH piercings?

Or print some of the information from this page:
http://piercingbible.com/female-genital-piercings#VCH
and or this one:
http://piercingbible.com/q-tip-test

Is the piercer the owner of the studio? If not, and the piercer is not receptive to your input, I would definitely try to discuss this with the owner. Feel free to share my correspondence with the piercer or the owner as well.

Where are you located? Perhaps I could repierce you or refer you to one of my capable colleagues?

Sincerely,
Elayne

Elayne Angel, Author
The Piercing Bible--The Definitive Guide to Safe Body Piercing
President, Association of Professional Piercers

[email protected]
http://piercingbible.com/
http://www.facebook.com/ThePiercingBible
http://twitter.com/elayneangel
http://www.linkedin.com/in/authorelayneangel